The Ronald Reagan PTA loves providing community-building events and activities for students that allow creativity and an opportunity to further apply what they have learned in the classroom. We do some fundraising to allow their academic experience to go beyond just what the teachers can provide on their own. All of this is accomplished when many well-intentioned people come together.
There are so many ways in which you can help! We have a variety of activities and events that need various amounts of help. There are too many to list them all here. But you can find all of the events on individual tabs on our SignUp Genius page. Please know that you are never left alone to complete a task. The executive board has knowledge and experience that they will share. Many hands make the work light for all.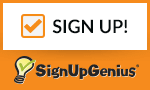 PTA Committees, Officers, and Chairs
The strongest PTA's have great Committee Chairs.  We have a list of GUIDELINES for this, mostly set up by the State and National PTA.  All of the fundraisers that we have done the past few years have been without committees and have fallen on the President and Treasurer which is taxing on them and the event. Our goal is to have Committee heads that can help manage the events.  They must act within the guidelines so that we can protect our good standing. 
Please take a minute to see where you can help.  Committee Chairs are usually elected from the team.  Please sign up as a volunteer for a committee and when you get together you can select a Chair or Co/Chairs.
The PTA Elections for officers will be held in May.
The officers of the PTA cannot hold an office for more than two consecutive years per the National and State PTA Guidelines.
Teachers cannot hold the position of President or Treasurer per State and District guidelines. Teachers are making up the bulk of our membership and attendance.
These positions require some skillsets and many hours of volunteer work.  Per the State Guidelines, our Insurance company, and the IRS, the Treasurer must be bondable and have experience in IRS acceptable standards of accounting.  They must have a working knowledge of bookkeeping programs, full-charge bookkeeping, and Excel/Google Sheets. 
If the Treasurer does not possess these skills the PTA must employ someone who does.